CYBERNET COMMUNICATIONS
ECOMMERCE SETUP PROCEDURE
Secure eCommerce is the ability to accept credit cards as payment when customers order products and services from your Web site.
There are many ways to accomplish the task, but this is CyberNet's current procedure:
Bank Account
Credit Cards
Merchant Account
Shopping Cart
Web Design
PLEASE NOTE THAT CYBERNET CAN HANDLE ALL OF THIS FOR YOU.
1. To setup an e-commerce Web site, your bank should be contacted and informed that you wish to have online electronic transfers directed to your account. You may be required to provide your bank with certain information which we should be able to supply to you (or the bank). There should be no banking costs involved to do this.
2. You should determine which credit cards you are willing to accept as payment which may include:
American Express
DiscoverCard
MasterCard
Visa
You will have to establish accounts with these companies, and there will be minimal charges based upon the sales of your products and services.
3. You'll need to setup a Merchant Account which handles the mechanism of Web sales. We recommend Authorize.Net. Their costs are:
One-time Setup Fee = $199.00
Monthly recurring Gateway Fee = $10.00
Transaction Fee = $.05 per transaction
See transaction diagram below
4. You'll also need a shopping cart which becomes embedded within your Web pages. We recommend SecureNetShop.com. Their cost is:
5. Finally, we can design your Web site to present your products and services to potential customers along with the ability to instantly purchase them online.
PLEASE FEEL FREE TO CALL US TO DISCUSS IN GREATER DETAIL:
Thank you.
CyberNet Communications ~ Since 1995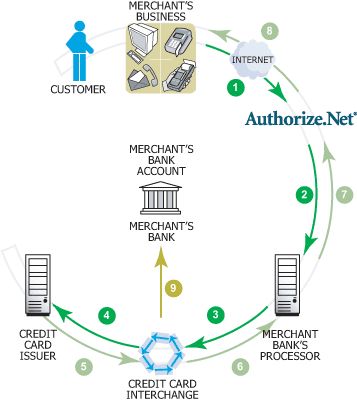 EOM Feb 08